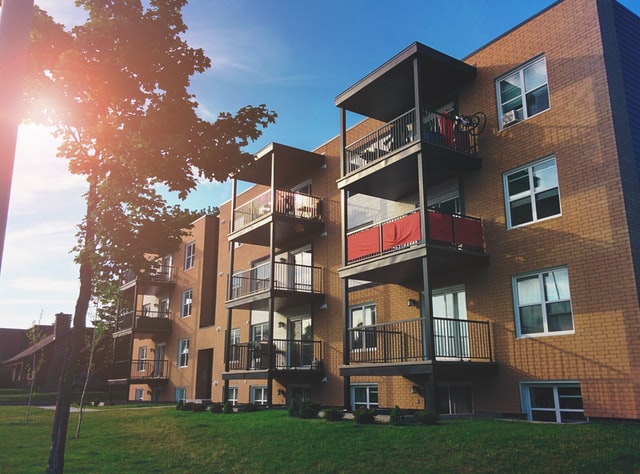 Looking for apartment complex construction services? Apartments have become a vital part of the housing market. After all, these complexes can house multiple households. According to the National Apartment Association, 4.6 million new apartments need to construct by 2030 to keep up with demand. In addition, 11.7 million older apartment complexes need renovation. However, why are apartments in demand? And what do need to do to build an apartment complex?
History of Apartment Complexes and Current Demands
Apartments have been around for centuries. Ancient Rome, Egypt, and other civilizations had buildings that could house hundreds of people. However, 1893 is when the first tenement building was built in the United States. In these early years, tenements were breeding grounds for criminal activity. Furthermore, many landlords (or slum lords) would price gouge tenants. Except for some luxury apartments like the Dakota, many of these multiple household complexes were in poor condition.
The Housing Act of 1949 would mark a change for apartments. There were significant developments in the design of these apartments between the 1950s and 1960s. In addition, a property class system was added to analyze the quality of these complexes. While apartments were not always nice, these complexes are important to the housing market. At the moment, 1 out of 8 Americans lives in apartments. That is almost 39 million people. This is why the recent demands for apartments have been overwhelming.
There have been record demands for apartments in 2021. There are many factors that contribute to the rise. These include:
Aging people want convenient living
The largest generational population is putting off homeownership
Increased immigration
These current demands are putting stress on the apartment housing market to create more complexes. However, what do you need when constructing an apartment complex?
Constructing an Apartment Complex
When it comes to constructing an apartment, there are a few important things that you need to consider before committing. For a construction project to go well, there are many factors that have to be considered. So, what are these factors?
Research The Area
Before building an apartment, you need to know the area. Anyone who is looking to build a complex should be intimately familiar with the area. This includes understanding local infrastructure, neighborhoods, and regulations. Researching key points about where you are building will help you save time and money.
Understanding Your Tenants
Another important question to think about is who will be living there. What type of tenants are you looking for? Your renters will be your main income and return for your apartment complex. As a result, you need to make sure your complex matches what tenants you are looking for.
Establish Timeline
Having a timeline for your construction project will save you time and money. Depending on the size and quality of the building, the amount of time it will take will vary. Setting benchmarks to reach will help you keep on time and prevent wasting resources.
However, it is important to find a company that will provide the best construction services. That is why you should contact Phase III Construction.
Apartment Complex Construction Services at Phase III Construction
Since 1993, Phase III has been providing high-quality construction services. This company has decades of experience in the fields of home remodeling and construction in both residential and commercial sectors. Phase III has a team of licensed professionals that are certified in a variety of skills and trades. Our extensive knowledge of the industry will allow us to streamline a construction project. We provide excellent apartment complex construction services! In addition, we have apartment reconstruction services. Regardless of whether you are rebuilding after a disaster or building from the ground up, Phase III has you covered.